ZipWhipper® Snowbird Resort
9385 S. Snowbird Center Dr., Snowbird, UT 84092
For days/hours of operation and pricing please call Snowbird directly at 801-933-2222 or visit their website snowbird.com/summer-activities/zip-whipper/.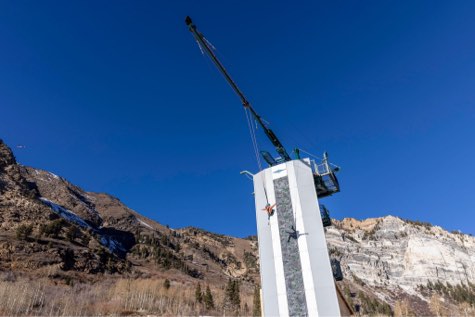 Stats:
60 ft. Climbing Wall
30 seconds to climb the wall to hit the "Top Out" button before time runs out
Backwards free-fall drop and swing, followed by gentle lower to ground
~90 second cycle time
Our flagship ZipWhipper® installation opened at Snowbird Resort in June of 2022, becoming the resort's newest summer attraction. The ZipWhipper® is not your standard climbing wall! The 60 ft. tall ZipWhipper® adds a competitive element by giving patrons 30 seconds to climb the wall as high as they can before time runs out, then concludes with an exciting and breathtaking freefall before gently lowering the patron back to the ground. The ZipWhipper is located near the top of the Chickadee chairlift, set against an iconic mountain backdrop. The ZipWhipper® is an add-on activity that can be added to Snowbird's All-Day Activity Pass or Twilight Pass.
VIDEOS
IMAGES